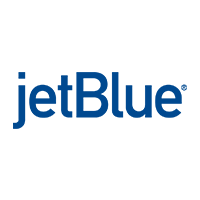 JetBlue Airways
Founded in 1998, JetBlue Airways is an U.S. airline based in Long Island City, NY, with additional corporate offices in Orlando, FL and Cottonwood Heights, UT along with focus cities in New York, Boston, Fort Lauderdale-Hollywood, Long Beach, Orlando and San Juan, JetBlue is proud to Inspire Humanity through its distinctive product, culture and award-winning customer service. We recognize our responsibility to the world beneath our wings— to better the lives of our customers, our crewmembers and the communities we serve, and to inspire others to do the same. JetBlue is the 6th largest airline in the U.S., carrying more than 38 million customers a year with an average of 1,000 daily flights. In 2017, JetBlue reported an operating income of $1.8 billiion while employing 21,000 crewmembers.
In 2017, JetBlue announced it would offer non-stop service between Boston and Minneapolis-St. Paul, which will be the 102nd city in its network. Additionally, JetBlue differentiates itself from legacy airlines and other low cost airlines by offering a high-quality product at a reasonable price point, ensuring that customers can afford to travel comfortably at a reasonable cost. As a result, JetBlue was ranked the #1 U.S. airline according to the American Customer Satisfaction Index.
JetBlue's caring and passionate crewmembers play a major role in the company's success. In 2017, JetBlue was honored as one of America's Best Employers by Forbes and a Best Place to Work by Indeed.com. JetBlue has been recognized for its company culture, public spiritedness and fostering an environment where crewmembers are empowered to make an impact. For more information please visit JetBlue.com.
You're Now Leaving This Site
JPMorgan Chase is not responsible for, and does not provide or endorse, this third-party site's products, services or other content. Our privacy and security practices do not apply to the site you're about to enter, so please review the third party's privacy and security practices.